Fished the SASDBFTC Tournament yesterday and managed to come out on top. I landed 4 bass. Mine were actually smaller than everyone elses, but I caught the most and won by 7 inches over the next place. Another close one, with 4 people landing monsters (20+ inches and over 5 lbs). As far as the quality of fish goes, it was the best tournament so far. We also had a pretty good turnout even in the pooring rain.

3 of my fish were landed on skinny senkos, while the clinching 11 incher was brought in on an American Tackle Grub. Looking forward to next months tournament!

MAY 4, 2018
A lot of you may not know this, but I also have a channel on TopBuzz, which I started as a way to test the waters in case YouTube fell through with all their policy changes and the "adpocolypse" a while back. I still use TopBuzz, and most of my videos are released there before YouTube. Kind of like a Sneak Peak before they get seen by the bigger audiences of YouTube.

Check it out here.


APRIL 16, 2018:
I had another top 3 finish yesterday. I caught one bass, 9 1/8 inches long. 1st place was 1 bass, 15 1/2 inches, 2nd place was one bass, 14 1/4 inches. Check out the results here. I threw several baits, and the only one that produced any bites (and landed my only fish) was a 3.5" American Tackle Grub, in the Zander Special color. You can find those in the American Tackle section of the SHOP NOW link at the top of this page.


APRIL 11, 2018:

Tournament this Sunday. Date might change if I have to work late, but right now it looks good. Parks just changed to their summer hours, so we can do more on Sundays. Park closes at 8:00pm, so check in is at 7:00. Start time is 4:30, and I'm coming straight from work. $10 entry. We'll meet inside the entrance closest to the Rigsby bridge over Salado Creek. Bite has been slow there lately, due to weather, but it should be heating up.


APRIL 10, 2018,
Trying to get a tournament scheduled for next week, but April is the busiest month of the year for me. It's going to be short notice, and I still don't know where it will be. I wanted to do it at Salado Creek at Covington Park, but I've been there a few times the past week or so, and the bite is completely dead. So I'm second guessing the location.



APRIL 8, 2018,

Just got in some business cards to hand out everywhere I go. I might hide a few at some popular local fishing spots too. Anything to boost my channel right now. Keep an eye out for Monday's video, I use a swimbait from my sponsor, RUNCL, and do pretty well with it.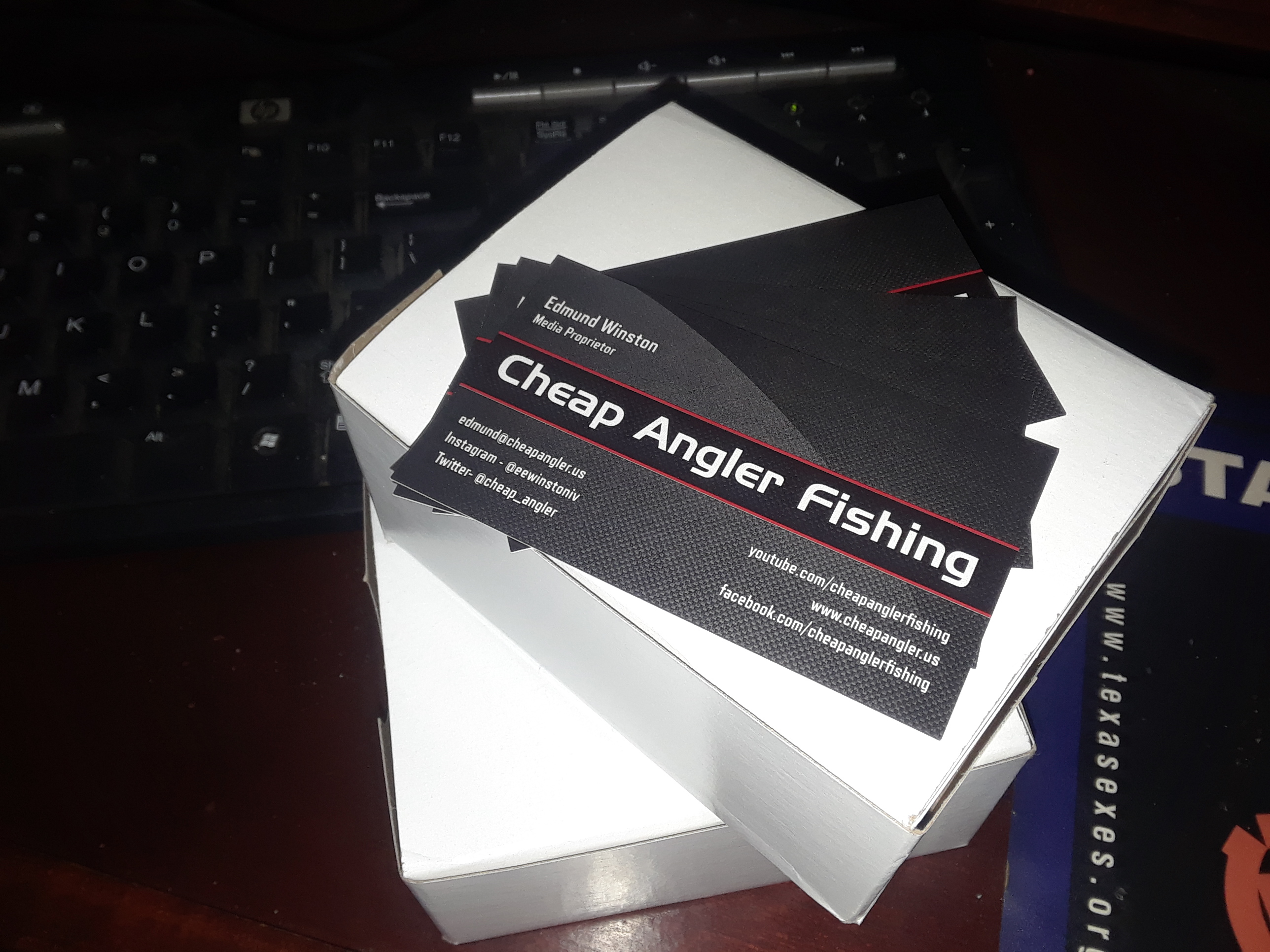 APRIL 7, 2018:
Launching a brand new blog page right here on cheapangler.us where I can let you know about upcoming events and videos, and talk about some of the products I use. Check back for new updates in the future!!